Shoals Hospital Unveils New Identity to Reflect Affiliation with North Alabama Medical Center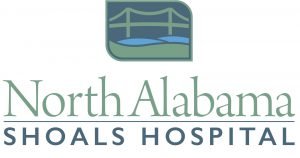 (Muscle Shoals, AL – December 17, 2020) – Today, hospital leaders with North Alabama Medical Center and Shoals Hospital announced the rebranding of Shoals Hospital as North Alabama Shoals Hospital, bringing the Shoals facility into greater alignment with its sister facility.
"For more than 50 years, Shoals Hospital has provided high-quality care, close to home. Shoals offers a unique set of diverse and valuable services to the Shoals community, including a reputed behavioral health program for adults and seniors, surgical services and a full service Emergency Department. Through the years, Shoals' scope of service has evolved, particularly in partnership with our sister hospital, North Alabama Medical Center (NAMC)," said Russell Pigg, Market President for North Alabama and CEO of NAMC. "Alignment between our hospitals has increased access to an even broader range of services across the continuum of care. Together we have more than 200 physicians in 45 specialties and include more than 11 outpatient centers and physician practices. By bringing our hospitals and outpatient centers together under a shared brand, we better represent the breadth and depth of our services to the Shoals community."
North Alabama Shoals Hospital will operate with the same team of care givers and support staff to ensure patients continue to receive the same high-quality care.
"Our patients are at the center of all we do. As we build upon our shared brand, we will have an even greater impact on our patients and the health of the communities we serve," said Stephen Howell, DO, and J.W. Sommer Rehabilitation Unit Director. "I look forward to this new venture which reinforces the hospital's position as a staple of excellent healthcare in the Shoals, as it's always been."
The name and logo change was announced first to staff during a launch event on December 17th. Exterior signs and internal messaging will be updated at the beginning of the year.
Read All Posts