Mason named NAMC 2023 Mercy Award Winner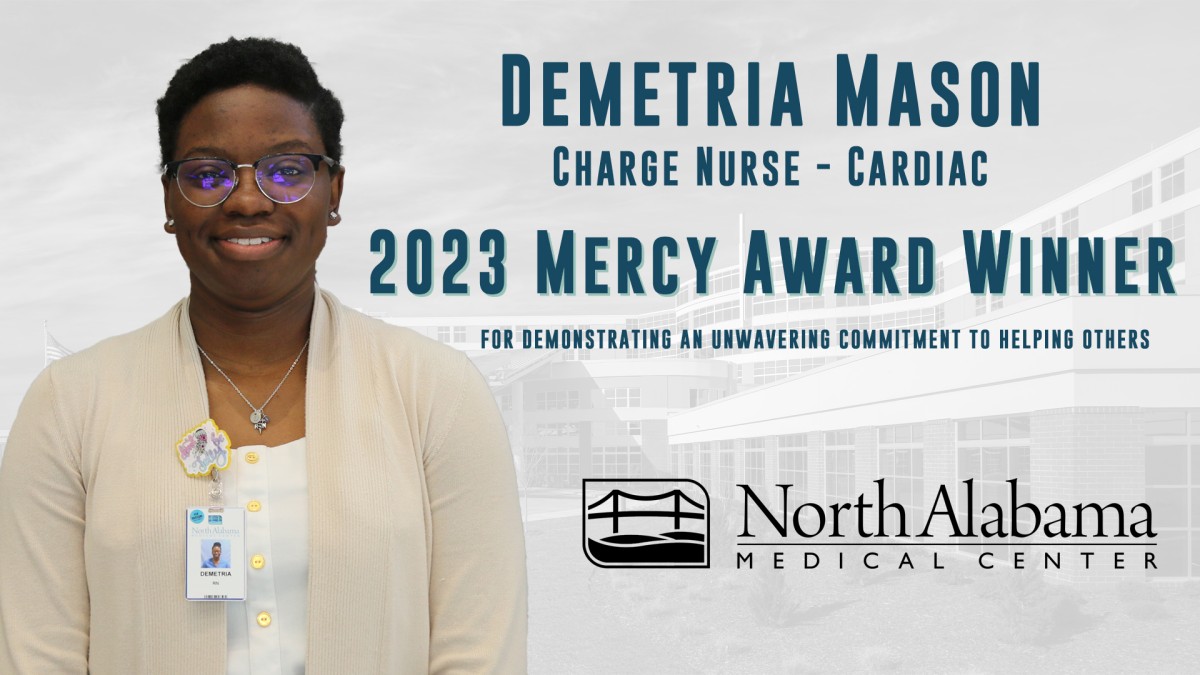 FLORENCE, Alabama (May 25, 2023) – North Alabama Medical Center recently announced that Demetria Mason has been recognized as the facility's 2023 Mercy Award winner. The Mercy Award recognizes one employee from each of Lifepoint Health's facilities who profoundly touches the lives of others and best represents the spirit and values on which the company was founded.
The Mercy Award is an annual recognition program that honors the life and contributions of Scott Mercy, Lifepoint's founding chairman and chief executive officer. The award is considered the highest honor a Lifepoint employee can receive.
"At North Alabama Medical Center, we share Lifepoint's commitment to making communities healthier, and we recognize this is supported by the good work and service of our employees on and off the job," said Russell Pigg, Market President and CEO of NAMC. "We are extremely proud to recognize Demetria for her efforts on behalf of our patients and our community. She goes above and beyond each and every day to ensure that every person she encounters receives the highest level of care and compassion."
Mason, a charge nurse on the Cardiac floor, has been at NAMC for three years. She is known both for her clinical abilities as well as her calming and compassionate communication skills with a wide range of patients. She is also a favorite with the NAMC medical students.
"It's amazing how someone so young can have that much influence over a unit," said cardiac nurse manager Danyelle Holt. "Demetria has her eyes on so many things at the same time yet is still able to perform her duties as charge. She is also a talented educator. Other nurses feel comfortable asking her questions and going to her when they have issues. She doesn't just tell them the answer; she gives them the rationale so they truly understand why."
Each facility winner, including NAMC, will be considered for Lifepoint's 2023 companywide Mercy Award. The companywide winner will be announced this summer and honored during a ceremony in Nashville, Tenn., in August.
Read All Posts