Dr. Dennis Fernandez, Advanced Robotic, Laparoscopic and Bariatric Surgeon, Joins NAMC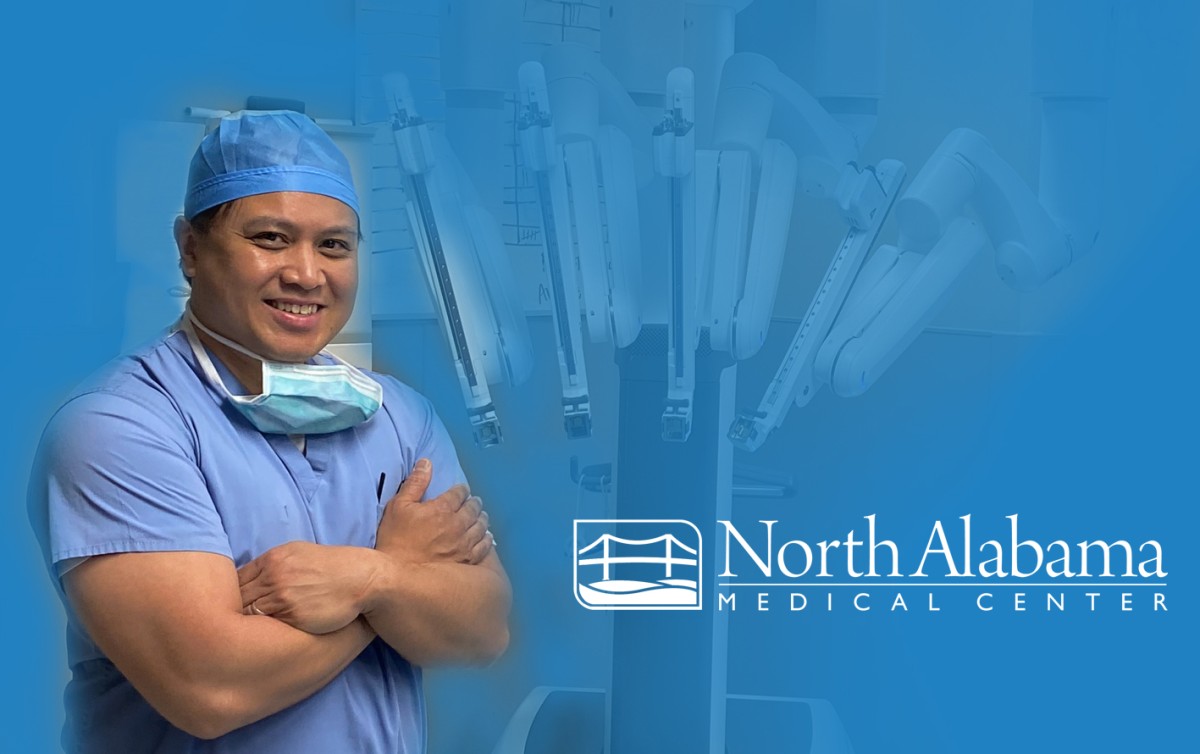 FLORENCE, Ala., – North Alabama Medical Center is pleased to welcome Dennis Fernandez, MD, to the medical staff as our newest laparoscopic, advanced robotic and bariatric surgeon. Dr. Fernandez comes to NAMC from Huntsville, Ala., where he ran a successful practice.

A pioneer in robotic surgery, Dr. Fernandez set the record of performing 100 robotic cholecystectomies (gall bladder removals) in 2013 using the da Vinci® robot. He was the first surgeon in Alabama to reach this milestone.
He is currently performing robotic appendectomies, cholecystectomies, hernia repairs and bariatric surgery at the NAMC facility in Florence. He is amongst the first surgeons in the United States and the first surgeon in Alabama to perform robotic complex hernia repairs including abdominal wall reconstruction. He instructs and proctors other surgeons nation-wide on this complex procedure.
"Dr. Fernandez is joining a group of amazing general surgeons and we are very excited to have him here in Florence," said NAMC CEO Russell Pigg. "He's an expert in robotic and weight loss surgery. With the addition of Dr. Fernandez, NAMC can care for complex robotic and weight loss surgery patients."
With more than 20 years of experience, Dr. Fernandez is a board-certified general surgeon. He is a fellow of the American College of Surgeons and formerly served as the Chief of Surgery at Crestwood Medical Center.
He serves as a Clinical Assistant Professor at the following regional schools of medicine: University of Alabama Birmingham, Huntsville Campus; Edward VIA College of Osteopathic Medicine; and the Alabama College of Osteopathic Medicine.
A native of West Point, Georgia, Dr. Fernandez received his BS in chemical engineering from Auburn University and his MD from the University of South Alabama. He completed his residency at Carraway Methodist Medical Center in Birmingham, Alabama.
"Over the years, I have seen my patients transform their lives by achieving their weight loss goals with bariatric surgery," said Fernandez. "The consistent weight loss leads to a healthier and happier lifestyle. I have been welcomed in this community with open arms and am so grateful for that. It is an honor to provide bariatric services at NAMC. I look forward to serving this community for a long time to come."
When he's not operating, Dr. Fernandez enjoys photography and amateur auto racing. Dr. Fernandez shares his life with his wife, Nancy.
About North Alabama Medical Center
North Alabama Medical Center opened its doors in 2018, as the replacement facility for Eliza Coffee Memorial Hospital, in Florence, Alabama. North Alabama Medical Center serves as a regional facility with more than 200 physicians on staff representing more than 42 specialty areas of medicine.The 263-bed facility offers the community's only open-heart surgery site, a complete line of women's and children's services, and a complete line of medical and imaging services.
Read All Posts